Google Maps shows you the more eco-friendly way to get around
Typically used to find the fastest route passing through the least traffic, Google Maps is much more than that. The navigation app recently introduced new features to not only make navigation easier, but to make the more eco-friendly choice as well.
For those that rely on Google Maps, perhaps one aspect we wish it could us out more with is navigating in indoors, particularly malls and their dreaded maze-like basement parking. The latest version of Google Maps may have just heard our pleas.
Live View indoors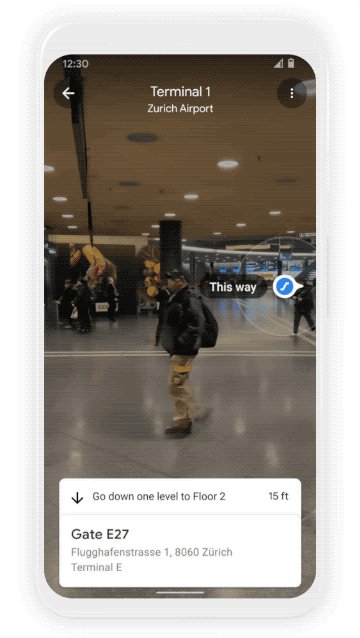 The last time we talked about a Google Maps update, we discussed one of its most interesting features, Live View. This feature uses augmented reality (AR) technology by using your camera to help point you in the right direction.
Live View is powered by a technology called global localization, which uses AI to scan tens of billions of Street View images to understand your orientation. Thanks to new advancements that help us understand the precise altitude and placement of objects inside a building, Google is now able to bring Live View to some of the trickiest-to-navigate places indoors: airports, transit stations and malls.
If you're catching a plane or train, Live View can help you find the nearest elevator and escalators, your gate, platform, baggage claim, check-in counters, ticket office, restrooms, ATMs and more. Arrows and accompanying directions will point you the right way. And if you need to pick something up from the mall, use Live View to see what floor a store is on and how to get there so you can get in and out in a snap. Indoor Live View is live now on Android and iOS in a number of malls in the US for now. It starts rolling out in the coming months for select airports, malls, and transit stations in Tokyo and Zurich, with more cities on the way.
Know the conditions
This is something Pinoys will definitely need, because rain showers can simply come out of nowhere. With the new weather layer, you can quickly see current and forecasted temperature and weather conditions in an area, so you'll know when you'll need an umbrella. And the new air quality layer shows you how healthy (or unhealthy) the air is. This information is particularly important if you plan to take what the government calls "active transport" or pretty much any form of commuting that requires a helmet like bicycles, motorcycles, kick scooters, electric kick scooters, and other similar modes. The weather layer will be available globally and the air quality layer will launch in Australia, India, and the U.S., with more countries to come.
Find more eco-friendly transport options
Google Maps will finally silence the debate on whether it's more efficient to take a car or simple walk or bike with the upcoming eco-friendly suggestion.
Soon, Google Maps will default to the route with the lowest carbon footprint when it has approximately the same ETA as the fastest route. In cases where the eco-friendly route could significantly increase your ETA, Google will let you compare the relative CO2 impact between routes so you can choose. Always want the fastest route? That's OK too. Users can simply adjust their preferences in Settings. Eco-friendly routes launch in the U.S. on Android and iOS later this year, with a global expansion on the way.
This isn't just for personal transport. Google Maps will also integrate public transportation options. Soon you'll get a comprehensive view of all routes and transportation modes available to your destination – you can compare how long it'll take to get there by car, transit or bike without toggling between tabs. Using advanced machine learning models, Maps will automatically prioritize your preferred modes – and even boost modes that are popular in your city.
For example, if you bike a lot, Maps will automatically show you more biking routes. And if you live in a city where taking the train or bus is popular, Google will rank that mode higher so you get the information you need faster. This rolls out globally in the coming months on Android and iOS.
SIGN UP TO DAILY NEWSLETTER
CLICK HERE TO SIGN-UP